Healing PT
JOSEPH X. BECKER, MSPT
Physical Therapy & Intramuscular Dry Needling located in The Woodlands, TX
Physical Rehabilitative Therapy in Woodlands, Texas
If you are dealing with a recent injury, recovering from surgery or experiencing chronic pain. The Physical Therapy Team can help you heal, regain strength, mobility and reduce pain. The Healing PT therapist have a variety of treatment skills to help improve patient outcomes, including but not limited to Dry Needling, Soft Tissue Manual Therapy, Decompression Therapy, Sports Medicine Rehab, Post-Surgery Rehab, etc, to deal with a variety of patient limitations and pain. We provide a one on one patient care experience that promotes healing and recovery in a compassionate environment. Our goal is to help you feel better physically and functionally, while making sure you're comfortable and an active partner throughout your physical therapy treatment. Our experienced clinical team (greater than 20 years) will work diligently to get to the core of your injury or condition to help you recover and stay healthy.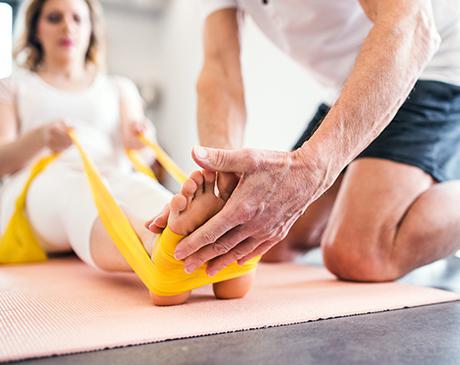 With over 20 years of experience, Joseph Becker, MSPT, is a dedicated physical therapist who enjoys helping people eliminate their pain and return them to their daily activities pain-free.
Education plays a central role in Mr. Becker's professional career in physical therapy. He achieved his master's degree in physical therapy from Texas Woman's University in Houston, Texas.
Mr. Becker helps people reduce pain, restore mobility, heal from injuries, and increase their overall function through his skilled interventions. At Healing PT, Mr. Becker listens to each of his patients' concerns and creates a customized treatment plan that helps address their specific needs and goals.
For the past 20 years, he has been working in the therapy field as an outpatient therapist, neuro therapist, manager, and director of outpatient clinics and inpatient rehab units in and around the Houston area. During his time as a physical therapist, he has treated a variety of conditions with integrative treatments, including but not limited to exercises, dry needling, electrical stimulation, joint mobilization, manual techniques, laser and light therapy, that target the source of pain.
Residents in The Woodlands, Texas, who are looking for a skilled and dedicated physical therapist, should schedule a time to meet with Mr. Becker at Healing PT and learn more about his treatment options.

Healing PT Vision is to become the preferred Outpatient PT care provider of Woodlands and surrounding areas. We are committed to improving the lives of our patients entrusted to our care through clinic excellence and extraordinary service. All offered in an atmosphere of compassion, hospitality and respect for all patients and families.
We assist our patient's in living a life free of pain; to promote overall physical health, fitness, and an improved quality of life. By treating and educating patients with high quality, comprehensive, and individualized physical therapy services. We design customized treatment programs to meet each patient's specific need(s). It is this combination of clinical expertise, genuine caring and a great community reputation that sets Healing PT apart.

WHAT WE OFFER
SERVICES

Sports Injuries
more info ›
Neck and Back Pain
more info ›
LOCATION
Healing PT
10857 Kuykendahl Road, Suite 120C
The Woodlands, TX 77382
Phone: 281-915-1659
Fax: 281-503-7841